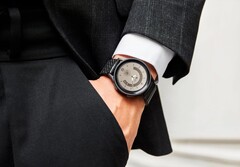 Pitaka has released a new watch strap for Galaxy Watch4 and Galaxy Watch5 smartwatches. According to the company, the Carbon Fiber Watch Band is made from 100% carbon fibre, which should be lightweight and hard-wearing. A patented magnetic clasp should keep the strap comfortable during multiple days wear too.
Pitaka has unveiled a new carbon fiber strap for the two most recent generations of Samsung Galaxy Watch smartwatches. According to the manufacturer, the Carbon Fiber Watch Band is uniformly 4 mm thick and weighs 28 g, which is significantly lighter than stainless steel alternatives. For reference, the band should fit wrists that are up to 178 mm in circumference. Also, Pitaka has included a tool to remove links, should you have a smaller wrist.
Pitaka adds that it has based its watch strap around a patented magnetic clasp. Supposedly, pressing a simple pinch-style button releases the strap, which should not be triggered by catching the strap on clothing. Pitaka states that the Carbon Fiber Watch Band is compatible with all Galaxy Watch4, Galaxy Watch4 Classic, Galaxy Watch5 and Galaxy Watch5 Pro sizes. As such, it is a 20 mm-wide band that should be compatible with all watches that support 20 mm quick-release straps.
However, the strap's curvature may be best suited for use with a Galaxy Watch4 or Galaxy Watch5 series smartwatch. The Carbon Fiber Watch Band is already orderable for the Galaxy Watch4 and Galaxy Watch5 series from Pitaka's website. Currently, Pitaka has priced the accessory at €104.99, or US$89 in the US. All Pitaka Carbon Fiber Watch Band orders come with a 12-month manufacturer's warranty.
Alex Alderson – Senior Tech Writer – 7621 articles published on Notebookcheck since 2018
Prior to writing and translating for Notebookcheck, I worked for various companies including Apple and Neowin. I have a BA in International History and Politics from the University of Leeds, which I have since converted to a Law Degree. Happy to chat on Twitter or Notebookchat.
Alex Alderson, 2023-03-29 (Update: 2023-03-29)