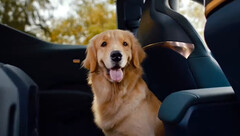 From the EV company first to use CATL's 4680-beating Quilin battery pack, now comes a compact luxury SUV innovation called Zeekr X priced from just US$27,600. The first high-end electric crossover is powered by a performance battery and has features like electric rear seats for fitting your pets, face unlocking, and a mini fridge that can maintain subzero temps.
The Volvo owner Geely keeps churning out interesting electric vehicles after it established its own Zeekr EV brand to capitalize on the growing market for electric cars. Case in point is what it calls the first luxury compact electric SUV that was just unveiled, the Zeekr X.
From electric rear seats that can fold so that your pet has more living space while traveling, to a real fridge that can maintains temperatures as low as -15 degrees Celsius (5 Fahrenheit), the Zeekr X seems destined to create a market of its own. The urban SUV also offers some futuristic features like face unlock and access, as well as a moving central screen that can travel to entertain the passenger when not needed by the driver.
As for the actual EV specs, even the cheapest single-motor version of the Zeekr X can accelerate 0-60mph in 5.8 seconds, and its ternary battery capacity is rated for 560km on a charge. That's by the local CLTC standard, though, so in EPA terms the range will most likely be closer to 245 miles which as can be expected from a midrange 66 kWh battery pack.
Planting a high performance battery with fairly mundane capacity, however, allowed Zeekr to price the X very competitively. The single-motor RWD version starts at just US$27,610, for instance, while the performance trims that can accelerate in 3.7 seconds go for a bit over 30 grand.
Needless to say, this is excellent pricing, but the Zeekr X will be the company's first global EV launch, so expect it to cost way more when it lands in Europe because of import taxes and certification testing. The Zeekr X is already up for preorder with the first deliveries scheduled for June.
Daniel Zlatev – Tech Writer – 679 articles published on Notebookcheck since 2021
Wooed by tech since the industrial espionage of Apple computers and the times of pixelized Nintendos, Daniel went and opened a gaming club when personal computers and consoles were still an expensive rarity. Nowadays, fascination is not with specs and speed but rather the lifestyle that computers in our pocket, house, and car have shoehorned us in, from the infinite scroll and the privacy hazards to authenticating every bit and move of our existence.
Daniel Zlatev, 2023-04-13 (Update: 2023-04-13)