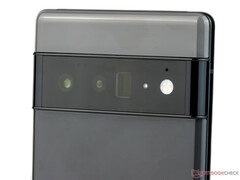 Google has finally improved Night Sight mode for the Pixel 6 and Pixel 6 Pro. Rolling out in a new Google Camera update, Night Sight should now work as well on the Pixel 6 series as the current Pixel 7 series. Not all Pixel 7-related Night Sight features have been added to the Pixel 6 and Pixel 6 Pro, though.
Google is now distributing the April 2023 update for Pixel smartphones, as well as an equivalent update for the Pixel Watch. However, the company has only just delivered on a promise made during last month's Feature Drop. Specifically, Google has released version 8.8.224.520435764.11 or its Camera app, which primarily affects the Pixel 6 and Pixel 6 Pro.
As we discussed last month, Google claimed to have improved Night Sight on its last-generation flagships. Supposedly, the company's night mode would work as fast on the Pixel 6 and Pixel 6 Pro as their successors, despite the inclusion of the more powerful Tensor G2 chipset in the Pixel 7 series. Google did not specify how it improved the Night Sight user experience on Pixel 6 series handsets though, nor whether it would be available on the cheaper Pixel 6a. 
Reputedly, Google has halved the required exposure time in Night Sight Mode without compromising image quality. According to 9to5Google, Google credits updated Machine Learning techniques and HDR+ with Bracketing for the Night Sight improvements. Night Sight's zoom bar is still exclusive to the Pixel 7 and Pixel 7 Pro, though. Google Camera app version 8.8.224.520435764.11 should be available to download through the Google Play Store now.
Alex Alderson – Senior Tech Writer – 7703 articles published on Notebookcheck since 2018
Prior to writing and translating for Notebookcheck, I worked for various companies including Apple and Neowin. I have a BA in International History and Politics from the University of Leeds, which I have since converted to a Law Degree. Happy to chat on Twitter or Notebookchat.
Alex Alderson, 2023-04-11 (Update: 2023-04-11)